Upgrade your Obelisk firmware
Objective
Use Obelisk Scanner to upgrade the firmware on your device
Time required
About 5 minutes
Things you'll need
Obelisk Scanner – download it here
If possible, we recommend that you physically power cycle each miner with the power switch on the power supply before you update firmware and after you update firmware. If you do not have physical access, then we recommend rebooting each miner using the Obelisk Dashboard both before and after a firmware update.
Check and update your firmware
You'll need to run Obelisk Scanner in order to detect your units. The app will also check their firmware version and see if there are any updates available.
Open Obelisk Scanner and run a Smart Scan or IP report to find your device. Once it is detected, you'll notice a red Upgrade button to the right.

If you haven't
changed your Obelisk's SSH password
, clicking
Upgrade
will immediately start the process. If you have changed the SSH password, you'll need to click Custom SSH Login and enter your credentials. The first field is always
root
and the second field is your custom SSH password.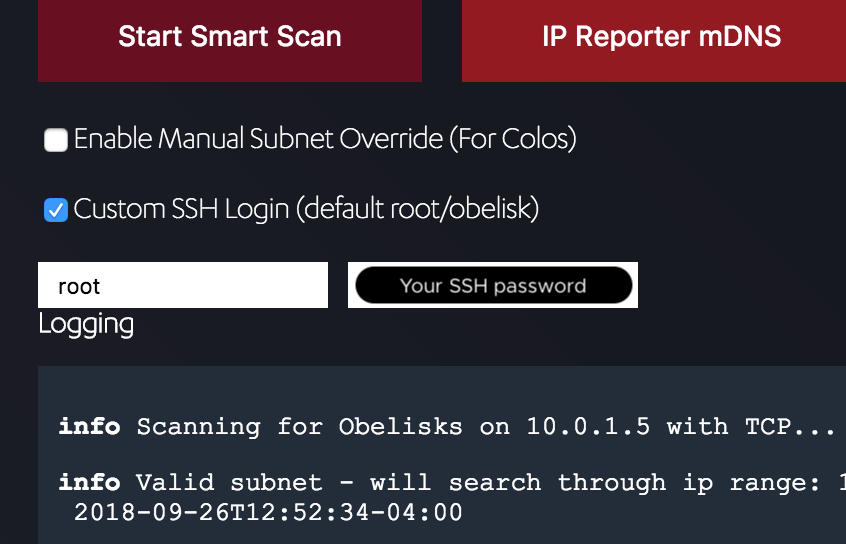 Once the upgrade starts, you'll see new info in the log section in the bottom left of Obelisk Scanner.
info
These will fly by pretty quickly. Once the last log states that the machine will reboot momentarily, it may actually take up to a minute.
Once your Obelisk reboots, you're done! If you run another Smart Scan in Obelisk Scanner, you'll see that it detects your upgraded firmware.

You can also log in to your Obelisk Dashboard for your unit to see the firmware version in the bottom left.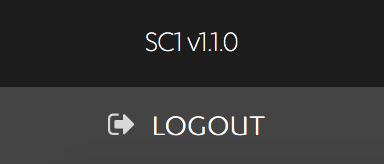 There's currently a known bug where running IP report after a successful upgrade will show that the upgrade is still available.
Troubleshooting the firmware upgrade
Antivirus software
Your antivirus software may prevent Obelisk Scanner from updating your device. If you see "Failed" during the process, try disabling your antivirus software for the duration of the update.
If you can't see your units with Smart Scan
Try changing the network and subnet (the Enable Manual Subnet Override (For Colos) option) and scan again
If you are connecting on a local network, try the mDNS scan and press the front button for about 0.5s
If you are connecting over a VPN or to a public IP, switch to the Manual Updater tab and enter the IP address directly
If the units appear in Obelisk Scanner with the Model Obelisk
This usually means that the pool configuration is incorrect. You do not need to fix this in order to upgrade the Obelisk. The upgrade process will detect the unit type and upload the appropriate firmware.
If you are using Cisco equipment
You will need to enable PortFast to prevent the Obelisk DHCP requests from being lost.
If you use a large number of units and DHCP
If you have a large number of units and are relying on DHCP you may need to reset the DHCP server (see documentation for your particular server) if it runs out of DHCP addresses to hand out. This was due to a bug in the v1.0.0 firmware that has been fixed in v1.1.0.
Other questions?
Check out our full section for troubleshooting your Obelisk or send us an email!
---
---